In 2013, Jack Daniel's sold more than 11 million cases of the company's iconic Black Label Tennessee Whiskey bottle. According to the company's historian, Nelson Eddy, that would never have been possible if not for Frank Sinatra.
"Frank's introduced to Jack Daniel's in around 1947, we're a brand that's under 200,000 cases at that point, very small brand," Eddy says. "And the only reason Sinatra finds out about it, he's at a bar with Jackie Gleason. Gleason turns to him and says, 'Have you tried Jack Daniel's?' He tries it that night, he falls in love with it, he feels like he's discovered it and given the number of cases that were out there, in a way, he did discover it for many, many people. He starts calling it, from the stage, the nectar of the gods and the best booze in the world."
Talk to anybody within the company and they'll tell you about how the history of Jack Daniel's is intertwined with music, going back to Jasper Newton "Jack" Daniel himself.
"He's born around 1850, but when he's alive it's a very small town, today it's probably just 600 people. He has a Steinway Grand, he has a great love of music and he knew music drew people," Eddy says. "And so very early on, the 1890s were the time of the small town band throughout this country, people have estimated there were 10,000 of these small gazebo bands in the 1890s and Jack will establish a small town band, it will be members of the community, who will play in what's called the Silver Coronet band."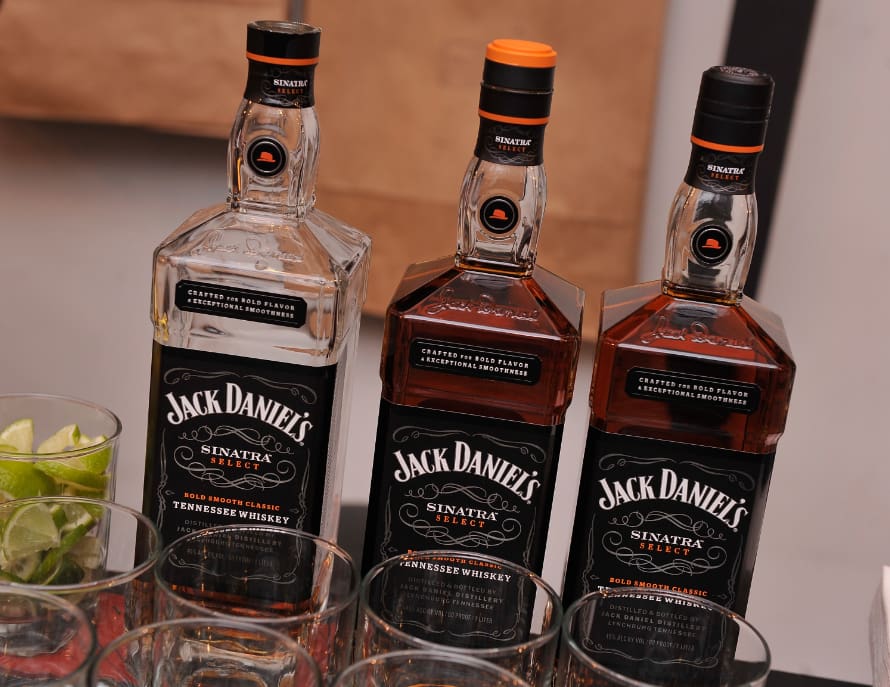 (Photo by Stephen Lovekin/Getty Images for New York Magazine)
Over the last century plus the company has become arguably the most rock and roll brand in America. Musicians from Led Zeppelin guitarist Jimmy Page, Rolling Stones' guitarist Keith Richards and Slash to Mick Jagger and Tom Petty have been photographed drinking JD as it is known.
"We do have all these countless stories of musicians, whether it's rock and roll or country, people connect to our brand in so many different ways," says Christopher Fletcher, Assistant Master Distiller. "Music is one of the very top ones. So whether you're a Sinatra fan or Led Zeppelin fan there are all these iconic images that come to people's minds when you talk about Jack Daniel's."
That can also be traced in part to Sinatra, in many ways the first real rock star. Eddy recalls a handwritten note from Bruce Springsteen in the '70s about JD and Sinatra.
"We got a note from Bruce Springsteen at some point and Springsteen writes back and lets us know, 'I enjoyed some Jack Daniel's with Frank Sinatra,'" Eddy says. "So Sinatra is such a big presence it's not hard to imagine everybody was exposed to him in some form or fashion. Even Lady Gaga in this recent Frank Sinatra tribute she did on television will acknowledge Jack Daniel's at the end because she knows the tie of Jack Daniel's and Frank Sinatra."
Given that rich history and a rock and roll authenticity that can't be bought, music is a big part of the Jack Daniel's marketing and exposure plan going forward.
Last year the company teamed with Los Angeles-based agency 1215creative to produce the Amplify Your Life music series, where they worked with bands like The Struts, The Knocks, Magic Wands, The Wild Feathers and Angélica Rahe on a series of events and original pieces of content. "It can be a challenge to tastefully bridge the gap between music and brands, often times it's over the top, however working with an iconic brand such as Jack Daniel's makes it an easy fit all around." says Brandon Fuller, Partner & Creative Director at 1215creative. "Jack Daniel's has always been connected to music, especially through their historic relationship with the legends. Great whiskey, music and storytelling go hand in hand and we are thrilled to help document and develop that story through various mediums for years to come."
"Giving back to up and coming musicians in our line of work is such a blessing, and that is truly the inspiration behind the entire Amplify Your Life campaign," Joie Pompilio, Regional Marketing Manager, says. "Iconic names have taken our brand as their badge and so the inspiration behind doing this program was to give back to the next generation of artists and musicians. The campaign included partnering on a tour kick-off party, producing music videos, recording in-studio collaborations, photo shoots and more. The content and talent speaks for itself, we were just happy to play a part in making it all come to life!"
Additionally, the company has been a sponsor at dozens music festivals and live events, according to Pompilio, that will continue to be the case and grow.
"Music is part of our DNA, it goes back to Jack Daniel himself, so it's always going to be the thread that ties through our marketing plans," she says. "We sponsor festivals now, Life Is Beautiful was a great example, so we're always looking at new opportunities to sample our brand and engage with consumers at different music festivals or events. I think all those things will continue to be around, maybe evolve, but be around."
For Fletcher the most important thing, whether it's expanding Jack's flavors as they have in recent years with new brands like Tennessee Fire and Tennessee Honey, or teaming with music, is maintaining the company's authenticity.
"Both on the production and whiskey-making lens and then through the marketing lens we have to make sure we do things in the way that is right for Jack Daniel's," he says. "As a distiller we're never going to put a product in the bottle that we don't feel like is the absolute best quality of what we can make in Lynchburg. In the last ten years we've done thousands of experimental barrels of Jack Daniel's and most people don't know that. You're not going to walk into the store and suddenly see 50 different flavors of Jack Daniel's. And I know that our marketing team feels the same way with how they have their messaging and content. There's quite a history that we need to live up to on both sides of the business."

The final stop for the Amplify Your Life campaign was at Mack Sennett Studios in Silverlake where designer Corey Parks customized a wardrobe for English rock band The Struts in advance of their photo shoot by esteemed photographer Robert Ascroft. The entire day was organized by 1215creative on behalf of Jack Daniel's, below is a video of how it all unfolded as told by director Chris Laughter, who crafted the video narrative for the overall campaign.
Baltin, Steve. "How Frank Sinatra Made Jack Daniel's Into A Rock Star Brand." Forbes, Jan 18, 2017. Accessed January 20, 2017.
https://www.forbes.com/sites/stevebaltin/2017/01/18/how-frank-sinatra-made-jack-daniels-into-a-rock-star-brand/