NEWS
Jack Daniel's Distillery & 3 Rivers Energy Partners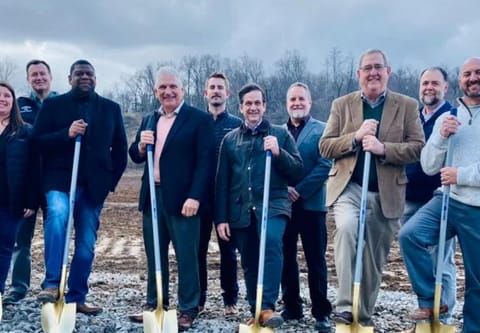 On January 2023 officials from the Jack Daniel's Distillery and 3 Rivers Energy Partners broke ground on the new anaerobic digester project located along Good Branch Road in Moore County. This new facility will provide the Jack Daniel Distillery with renewable energy to run its operations and local farmers with a source of natural fertilizer to grow the corn the Distillery needs to craft our whiskey. This partnership is yet another step in Jack Daniel's ever-evolving sustainability journey

Max Johnson, Matthew Dautle, and Shawn Poynor with Dorado Construction. (A Lynchburg Times Photo)
When Jack Daniel first learned the art of distilling whiskey from Nearest Green, he also learned the importance of doing things the right way - even if it takes a little more effort and time.
These days, we carry this sentiment forward in our efforts to run our Distillery with "zero-waste to landfill" and to responsibly steward everything from the water that makes our whiskey to the wood that makes our barrels.
Our commitment to making great whiskey is only matched by our commitment to preserving the world we call home. That's why we send 99% of the materials used in our Distillery to be reused or recycled, and why we are constantly working toward new zero-waste goals.
OUR ZERO-WASTE INITIATIVES INCLUDE:
- Upcycling sugar maple charcoal used for filtering into smoking pellets for barbecues.
- Converting excess shrink wrap from packaging into decking material.
- Reusing grain and yeast distilling by-products as cattle feed.
- Repurposing used barrels with the help of furniture makers and other alcohol manufacturers.
- Reducing paper waste by providing tablets for electronic record-keeping.
The magic of Jack Daniel's starts with the iron-free water from our natural Cave Spring Hollow, and we think that's something worth protecting.
We've already conserved hundreds of acres of land to protect the Cave Spring, and are saving approximately 8 million gallons of water per year by pumping water from our reverse osmosis system to be used in our fire loop system.
WHITE OAK & SUGAR MAPLE PROTECTION
Environmental Stewardship